FAILED BACK SURGERY SYNDROME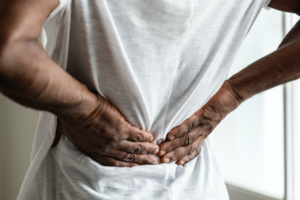 What's Failed Back Surgery Syndrome?
Failed Back Surgery Syndrome, also known as Failed Back Syndrome, refers to a medical term often used to describe spinal pain of unknown origin either persisting despite surgical procedures or appearing after surgical intervention for spinal pain originally in the same location. Failed Back Surgery Syndrome occurs when the outcome of a lumbar spine surgery proves unsatisfactory, thereby leaving the patient with persistent or recurring low back pain even after the surgery. This condition may also occur as the inability of the patient to return to normal activities after surgery.
Studies have shown that an estimated 40% of patients have experienced continued pain after a spine surgery depending on the type of surgery conducted and the initial condition of the patient. The surgery may increase the pain or provide temporary relief to the patient. The pain may also originate after the surgery.
What's the Possible Reasons for Failed Back Surgery Syndrome?
Several conditions may contribute to a failed back surgery. An incorrect diagnosis or procedure may emerge as the most common reason for failed back surgery syndrome. Spinal specialists have different ways to figure out the cause of back pain. Some specialists rely solely on clinical observation and physical tests while others go further to order various imaging tests. The clinical observation and physical tests alone may not prove accurate enough to determine the particular condition thereby providing an inaccurate diagnosis. An individual should receive a thorough examination and diagnosis by a dedicated spinal specialist before undergoing any form of surgery. Seeking a second opinion may also help to prevent an incorrect diagnosis.
Other reasons for failed back surgery syndrome include the formation of scar tissue, persistent disc herniation, continued pressure from spinal stenosis, surgeon error, spinal fusion failure, hardware failure, and implant rejection.
How do Spinal Specialists Diagnose Failed Back Surgery Syndrome?
A spinal specialist may diagnose failed back surgery syndrome based on the patient's present symptoms and medical history. A thorough examination and appropriate diagnostic imaging may take place where the specialist will determine the type and amount of pain present.
Other tests that may prove useful in determining failed back surgery syndrome include MRI and CT scans.
How do Spinal Specialists Treat Failed Back Surgery Syndrome?
The treatment of failed back surgery syndrome will depend on the degree of pain of the patient and the reason for the failed back surgery. A spinal specialist may prescribe medication to decrease the pain and enable improvement. NSAIDs such as aspirin and ibuprofen may prove helpful to relieve pain and inflammation. Other powerful drugs and muscle relaxants for back spasms may turn useful when over-the-counter drugs fail to provide pain relief.
In the case where failed back surgery causes emotional or mental issues, a specialist may prescribe antidepressants to help stabilize the patient's mood. Physical therapy may also improve function and provide some form of pain relief for individuals with failed back surgery syndrome.
In some cases, spinal specialists recommend surgical procedures to deal with failed back surgery syndrome. Common surgical procedures that may occur include spinal cord stimulation and nerve blocks.
If You need of a Fort Worth

Neurosurgeon

,

Contact

 Longhorn Brain & Spine Immediately To Get a Consultation.
References
Baber Z, Erdek MA. Failed back surgery syndrome: current perspectives. J Pain Res. 2016;9:979-987.
Jerome Schoffermanet al.; Failed back surgery: etiology and diagnostic evaluation; The Spine Journal 2003;3 : 400–403 .
Schnitzer T.J. et al..; Efficacy of tramadol in treatment of chronic low back pain.; J Rheumatol 2000;27:772–8.
Sebaaly A, Lahoud MJ, Rizkallah M, Kreichati G, Kharrat K. Etiology, Evaluation, and Treatment of Failed Back Surgery Syndrome. Asian Spine J. 2018 Jun;12(3):574-585
Roelofs PD, Deyo RA, Koes BW, Scholten RJ, van Tulder MW. Non-steroidal anti-inflammatory drugs for low back pain: an updated Cochrane review. Spine (Phila Pa 1976). 2008 Jul 15;33(16):1766-74
ABOUT LONGHORN BRAIN & SPINE
Founded on Excellence
Founded by Neurosurgeon, Dr. Grant Booher, Longhorn Brain and Spine focuses on a patient-centered approach to alleviating North Texans from Neurological and Spinal Pain.  Dr. Booher and his clinical team believe in exhausting all non-invasive protocols first and if needed, employing the least invasive procedures necessary to treat the patients.
Our Beliefs
Dr. Booher believes in a conservative, individualized and holistic approach when it comes to his patients. He prefers exhausting all nonsurgical options and proudly offers the least invasive techniques when clinically indicated. He strives to treat every patient like a member of his family. During his free time, he and his wife enjoy watching sports, listening to Texas country music, and traveling.