Posterior Lumbar Interbody Fusion (PLIF)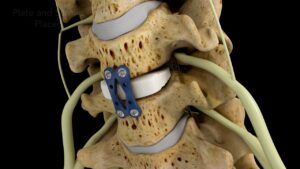 What is Posterior Lumbar Interbody Fusion (PLIF)?
Posterior Lumbar Interbody Fusion (PLIF) refers to a surgical procedure intended to alleviate back pain that involves the fusion of two or more vertebrae, thereby eliminating any movement between them. This procedure works by removing the problematic intervertebral disc between the vertebrae, which normally enables the spine to bend and rotate, and inserting a bone graft in its place. Posterior Lumbar Interbody Fusion simply implies a spinal fusion procedure where a neurosurgeon approaches the spine through an incision on the back.
What are the Conditions for Posterior Lumbar Interbody Fusion (PLIF)?
Posterior Lumbar Interbody Fusion (PLIF) may occur to relieve back pain caused by some conditions that affect the lower spine. These conditions may include:
1- Spinal instability or weakness, which may occur due to tumors or external trauma to the spine
2- Spinal deformities including scoliosis and kyphosis
Neurosurgeons may recommend Posterior Lumbar Interbody Fusion (PLIF) for individuals with pain, weakness, or trauma from one of the aforementioned conditions. This surgery may occur only after extensive non-surgical alternatives have failed.
How do Neurosurgeons carry out Posterior Lumbar Interbody Fusion (PLIF)?
A neurosurgeon may carry out Posterior Lumbar Interbody Fusion (PLIF) as a traditional open surgery or as less minimally invasive surgery, depending on the patient's condition and medical history. A less minimally invasive procedure occurs when the neurosurgeon makes a small incision into the muscle of the patient's back and uses a retractor to provide sufficient exposure to carry out the surgery. This minimally invasive procedure aims at reducing postoperative muscle pain and facilitating faster recovery for the patient.
A traditional Posterior Lumbar Interbody Fusion (PLIF) involves a three-inch to six-inch long incision made in the midline of the back, depending on the levels of vertebrae requiring fusion. Retraction or separation of the spinal muscles then occurs to give the neurosurgeon access to the vertebral disc. The neurosurgeon then performs a Laminectomy to gain access to the nerve roots and the exact surgical location. The surgeon will remove the affected vertebrae and surrounding tissue to prepare bone surfaces of adjacent vertebrae for fusion. After the neurosurgeon prepares the disc space, insertion of a bone graft occurs to promote fusion between the vertebrae. The neurosurgeon may also require the use of additional instrumentation such as rods and screws to further stabilize the spine. The neurosurgeon will close and dress the incision to complete the procedure. 
What are the Possible Risks and Complications of Posterior Lumbar Interbody Fusion (PLIF)?
The main complication that may arise after a Posterior Lumbar Interbody Fusion surgery remains the failure of the vertebral discs to fuse. In the case of an unsuccessful spinal fusion, neurosurgeons may recommend another back surgery to refuse the vertebrae. Failure of the vertebral discs to fuse occurs commonly among patients with a history of previous multiple spinal fusion surgeries or cancer. This complication may also occur among patients with obesity or who smoke. Successful fusion rates for Posterior Lumbar Interbody Fusion surgery reach a value of 90-95%. 
Other complications that may arise after this procedure may include damage to the spinal cord or peripheral nerves, loss of sensory functions, infection, bleeding, and increased back pain.
References
Mino, D. E., Munterich, J. E. & Castel, L. D. Lumbar fusion surgery for degenerative conditions is associated with significant resource and narcotic use 2 years postoperatively in the commercially insured: a medical and pharmacy claims study. J. Spine Surg. 3, 141–148 (2017).
Rushton, A. et al. Patient journey following lumbar spinal fusion surgery (FuJourn): A multicentre exploration of the immediate post-operative period using qualitative patient diaries. PLoS One 15, 1–19 (2020).
Park Y, Ha JW. Comparison of one-level posterior lumbar interbody fusion performed with a minimally invasive approach or a traditional open approach. Spine. 2007;32:537–543. doi: 10.1097/01.brs.0000256473.49791.f4.
 Yavin, D. et al. Lumbar fusion for degenerative disease: A systematic review and meta-analysis. Clin. Neurosurg.80, 701–715 (2017).
If You are in need of a Fort Worth Neurosurgeon, Contact Longhorn Brain & Spine Immediately To Get a Consultation.