SPINAL DEFORMITY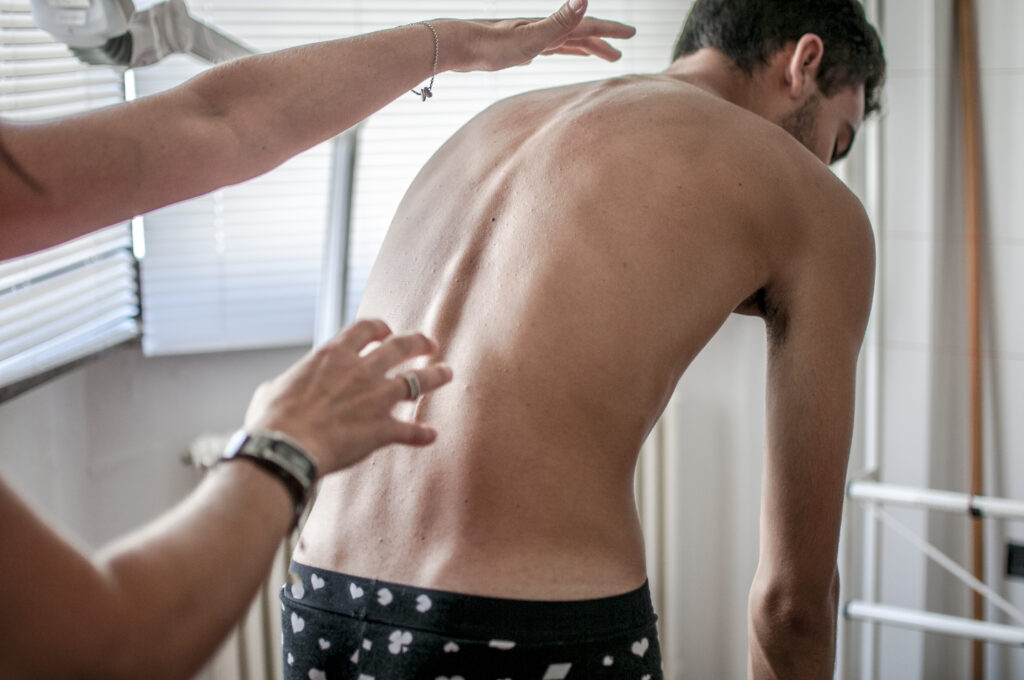 What's Spinal Deformity?
Spinal deformity generally refers to an abnormal curvature of the spine. This occurs when the curves of the spine differ from the normal S-shape seen from the side or the straight line down the back of a normal spine. A healthy spine possesses gentle curves when viewed from the side and runs straight down the middle when viewed from the back. When spinal deformities occur, the natural curves of the spine are misaligned or exaggerated in certain areas. These spinal curves serve to absorb and distribute stress that occurs from everyday activities. Therefore, a deformity to the spine affects the spine's ability to work properly, leading to pain, neurological problems, and mobility challenges.
What's the Types of Spinal Deformity?
Deformities to the natural curves of the spine can occur in different forms. They may develop as a result of a birth defect, aging, injury, or previous spine surgery. The main types of spinal deformity include Scoliosis, Kyphosis, and Lordosis.
Scoliosis
Scoliosis refers to the abnormal sideways curvature of the spine. This deformity often occurs as an S-shaped or C-shaped curve and the diagnosis often takes place in the adolescent age. To diagnose scoliosis, a spinal specialist may recommend an x-ray to check the angle of the curve. The spinal specialist may diagnose a deformity as scoliosis when the angle of the curve measures more than 10 degrees on an x-ray. Individuals with scoliosis may experience symptoms such as low back pain, back stiffness, pain and numbness in the lower extremities, and fatigue.
Kyphosis
Kyphosis refers to an exaggerated forward curvature of the spine. Although kyphosis can occur at any age, this deformity usually develops among older women. Kyphosis in older people often occurs due to weakness in the spinal bones that causes them to compress or crack. Individuals with kyphosis may experience back pain and stiffness in addition to an abnormally curved spine. Severe kyphosis may cause excruciating pain and stiffness in the back and shoulder blades. Treatment of this deformity largely depends on the age of the patient and the cause of the abnormal curvature.
Lordosis
Lordosis refers to an excessive inward curve of the spine at the lower back. This deformity may develop as a result of obesity, bad posture, genetics, previous spine surgery, or dwarfism. The signs of lordosis may include more pronounced buttocks and the presence of an abnormal posture with an arched lower spine. Mild forms of lordosis require little to no treatments and this deformity often fixes itself in children. Physiotherapy may prove necessary to treat lordosis in adults.
What's the Treatment Options for Spinal Deformity?
Spinal specialists usually make treatment recommendations based on the age of the patient and the severity and type of spinal deformity present. Mild cases of spinal deformity may not require any form of treatment. More severe cases of spinal deformity may require the use of a back brace or surgery. Treatment options for spinal deformity may include:
Use of back braces
Exercise and physical therapy to improve flexibility and strengthen the spinal musculature
Use of medication to relieve pain and swelling
Weight loss
Surgery, in the case of severe spinal deformity
References
Shakil H, Iqbal ZA, Al-Ghadir AH (2014). "Scoliosis: review of types of curves, etiological theories and conservative treatment". Journal of Back and Musculoskeletal Rehabilitation. 
American Academy of Orthopaedic Surgeons: "Kyphosis (Roundback) of the Spine."
"scoliosis". Dictionary.com. Archived from the original on 16 August 2016. Retrieved 12 August 2016.
Keller TS, Harrison DE, Colloca CJ, Harrison DD, Janik TJ (March 2003). "Prediction of osteoporotic spinal deformity". Spine. 28 (5): 455–62.
If You  need of  Fort Worth

Neurosurgeon

,

Contact

 Longhorn Brain & Spine Immediately To Get a Consultation.
ABOUT LONGHORN BRAIN & SPINE
Founded on Excellence
Founded by Neurosurgeon, Dr. Grant Booher, Longhorn Brain and Spine focuses on a patient-centered approach to alleviating North Texans from Neurological and Spinal Pain.  Dr. Booher and his clinical team believe in exhausting all non-invasive protocols first and if needed, employing the least invasive procedures necessary to treat the patients.
Our Beliefs
Dr. Booher believes in a conservative, individualized and holistic approach when it comes to his patients. He prefers exhausting all nonsurgical options and proudly offers the least invasive techniques when clinically indicated. He strives to treat every patient like a member of his family. During his free time, he and his wife enjoy watching sports, listening to Texas country music, and traveling.